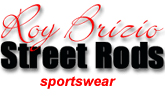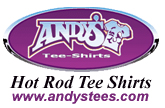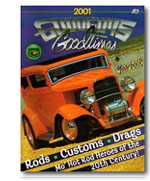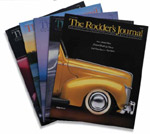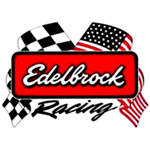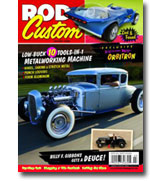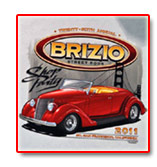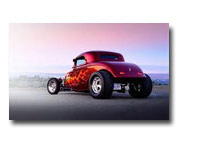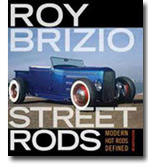 HAPPENINGS

Saturday, May 10th, Brizio's celebrates our 37th Anniversary with another SHOP PARTY and OPEN HOUSE. You're invited! Check it out!

IN THE NEWS

At the 2013 CALIFORNIA HOT ROD REUNION, Roy was presented with the NHRA's Lifetime Achievement Award. Roy has been dedicated to the sport of hot Rodding almost all his life, where he started out working at his dad's speed shop as a teen. At twenty he opened Roy Brizio Street Rods where he and his crew have turned out hundreds of hot rods over the last thirty five years...
Check out the photos and more

The 27th Annual West Coast Nationals were held in Pleasanton CA over the last weekend in August. During the week of the event, The GOODGUYS puts on tours to various shops around the Bay Area. This year they stopped by Brizio's...
Check out the photos and more

MORE NEW RODS COMPLETED!

John Scully's 1932 Lincoln Touring Car

Check out the photos and more

Tony Jurado's 1932 Ford Roadster

Check out the photos and more

Cliff Hanson's 1932 Ford 5 Window Coupe

Check out the photos and more

Steve Luzco's Ford Three Window Coupe

Richard Munz's 1940 Ford Woodie

Jay Feero's 1932 Ford 3-Window

John Mozart's 1957 Chevrolet

John Mumford's 1950 Ford

Check out the photos and more

Ted Stevens' 1940 Ford Woodie

Mike Corazzelli's 1932 Ford Roadster

MORE RODS IN PROGRESS

Damien Farias' 1956 Chevy


Damien lives on the beautiful island of Maui in Hawaii. He has long craved having a nice running and looking 56 Chevy. Well, he found it on-line in Florida and made the purchase...

John Scully's 1933 Lincoln Sedan


We recently finished John's 32 Lincoln, Aston Martin powered open car. For those of you that are familiar with San Francisco and its weather, open cars are not always the best choice for cruising. So John's next project is a 1933 Lincoln Four Door Sedan. This one is a little more conventional...

Paul Camuzi's 1932 Ford Roadster

Paul bought this 32 a couple of years back after his sports car buddies told him "you need a hot rod." What says hot rod better than a 32 Ford fender less roadster. When Paul saw this car he thought...


Scott Gillen's 1932 3 Window Coupe

Scott had been looking for a hot rod for some time. His dream came true when he found a 32 Coupe that caught his eye because of all the gennie vintage pieces. After a few hours of negotiations...


John Scully's 32 Lincoln
John is a resident of San Francisco, which is close to Brizio Street Rods. John wants a car he can put a couple of his buddies in and go for a ride. The 32 Lincoln is big enough, you could fit a whole little league baseball team in and go for that ride...

Danny Sullivan's 1957 Chevy
In September of 1967, Dan bought his first car while in high school, a ten year old '57 Chevy. Like any high school boy with a cool car, there are a lot of stories, none which can be printed. In 1977, Dan put the car in storage after joining the San Francisco Fire Department. After retirement..

Cliff Hanson's 1932 Ford Coupe
Cliff has a couple of Brizio built hot rods. One is a 33 Hi-Boy, yellow in color with flames and a Blown Chrysler. The other is the 1987 America's Most Beautiful Street Rod Ferrari powered roadster. His next project is going to be a 32 5-window coupe. The body is chopped 3.5 inches and will be channeled slightly over the Brizio chassis...

Mike Corazzelli, 1932 Ford Roadster
Michael has been passionate about street rods his entire life. His lifelong dream has been to own a traditional styled 1932 Hi-Boy Roadster. Michael wanted not only a great looking roadster, but one that is built with the highest quality and dependability...

Tony Jurado's 1932 Ford Roadster
After owning several 1932 Fords and wanting a Brizio built roadster, Tony finally pulled the trigger. Tony is no stranger to hot rods and race cars. He can be found on weekends running his 200 M.P.H. door car at Sacramento and Sonoma drag strips...


AMERICA'S MOST BEAUTIFUL
ROADSTER!

You heard it right! The "Team Brizio" built 27 Track Nosed Roadster for John Mumford was crowned "AMERICAS MOST BEAUTIFUL ROADSTER" for 2013...

HAPPENINGS

On October 18th to the 20th the California Hot Rod Reunion was held at Famoso Raceway in Bakerfield, CA. Street Rodder magazine put together a tour working their way to the reunion. One of their stops was at Brizio Street Rods. The guests were treated to lunch and the run of the shop. Roy greeted them...

36 Years in Business! Mark your calendars! Roy Brizio once again celebrates by throwing his ANNUAL SHOP PARTY AND OPEN HOUSE. Check out the 28th Annual ROY BRIZIO STREET RODS 2013 Open House photos.
Check out the photos and more

SIX NEW RODS IN PROGRESS

Edelbrock Corporation is celebrating their 75th year in business. Vic wants a new Hot Rod to represent this accomplishment. A 1932 Ford 5-Window was chosen to do just that. The coupe will be powered by one of their "total power package" 302 cubic inch Ford motors...

Jim Lindsey's 1932 Ford Panel

Jim has always liked 32 Fords, especially commercial vehicles. His collection includes a Double B Stake Bed Truck. Another special hot rod to Jim is a 1932 Ford 5-Window that he bought when he was 17 years old, and still has. Sometimes it's funny how things come together...

Patrick Liebel's 1957 Chevrolet
Patrick is a car guy from the great Northwest. A few years ago we built Pat a bitchin 32 Roadster. This time it's a later model closed car. This will give him the option to drive the Roadster on the nice days and the closed car on the not as nice days...


Greg Weld's 1933 Ford Cabriolet
Greg looked up Roy at the L.A. Roadster show last year. Greg was interested in building a 33 Cabo that he could drive the heck out of. The project is centered on an American Speed Cabriolet body. Because the rod is going to be a Hi-boy...


Paul Bonderson's 35 Ford Phaeton
If you have been checking in on our web-site, a name you may come across a couple of times is Paul Bonderson. Paul is one of our favorite customers. The variety of years, colors and power plant choices always amazes us...


Austin Beutner's 50 Chevrolet PickUp
Austin thinks variety is the spice of life. He is having us build him a 50 Chevy pickup to keep his 32 Roadster and 67 Camaro company. Austin saw the 49 Chevy pickup we did for Eric Clapton and he fell in love with it...

MORE COMPLETED RODS

Fred and Scott Hawley's 55 Chevy

Jim Moore's 32 Ford Hi-Boy

Joe Casanova's 32 Ford Hi-Boy

Chet Thomas' 32 Ford Hi-Boy

Bob McDonald's 1940 Ford Pick-Up

Jim Vickery's 1946 Ford Woodie

John Mumford's 1932 Ford Roadster

John Mumford's 1932 Ford 3-Window

John Mumford's 35 Ford Woodie



Tom Gloy's 32 Ford Roadster

Mark and Dennis Mariani Jr-32 Ford Sedan Hiboy

MORE NEWS

John Mumford's 1932 CGC Class Couple Running at Boneville.

Recently Roy Brizio Street Rods was featured on THE LEARNING CHANNEL.

PAST RODS IN PROGRESS

Tom Gloy's 1932 Roadster



Mark and Dennis Jr. Mariani's 32 Ford 2-Door Sedan Hiboy



John Mumford-33 Three Window Coupe



James Holmes' 1933 Ford Coupe



Fred and Scott Hawley's 56 Chevy



Dennis Varni's 1939 Merc 2 Door Sedan



Bart Rinker's 1949 Buick



Paul Bonderson's 1935 Ford Panel



Eric Clapton's 1949 Chevy Truck



Jorge Zarogoza's 32 Ford 3-Window Coupe
any more

HUNDREDS OF NEW PICTURES OF CARS IN PROGRESS

Check out all the latest cars in progress. Photos and more: