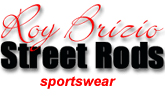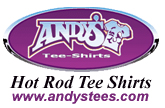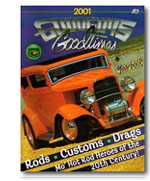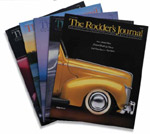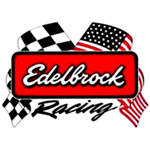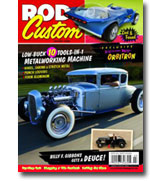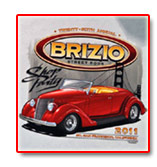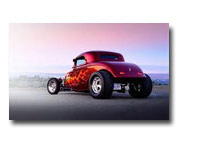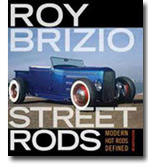 IN THE NEWS

At the 2013 CALIFORNIA HOT ROD REUNION, Roy was presented with the NHRA's Lifetime Achievement Award. Roy has been dedicated to the sport of hot Rodding almost all his life, where he started out working at his dad's speed shop as a teen. At twenty he opened Roy Brizio Street Rods where he and his crew have turned out hundreds of hot rods over the last thirty five years...
Check out the photos and more

The 27th Annual West Coast Nationals were held in Pleasanton CA over the last weekend in August. During the week of the event, The GOODGUYS puts on tours to various shops around the Bay Area. This year they stopped by Brizio's...
Check out the photos and more

SEVEN NEW RODS IN PROGRESS

Dickie Michaels 1932 Ford Hiboy

Dickie's work place is close to our shop, so he comes by quite a bit. While we were building a roadster for Tom Gloy a couple of years ago, Dickie would check out the progress weekly. Dickie liked Tom's car so much...
Eric Clapton's 1932 Ford Roadster

About ten years ago, we built a 1932 Ford Roadster for Eric. The car was delivered to the south of France for Eric to enjoy while there. Since then we have built two Ford Victoria's, a two door and a four door. Yes, a four door Victoria...

Chuck Thornton's 1937 Cord

Chuck is a super customer of ours. We built him a couple of 34 Fords a few years back. Both cars had the best of everything including four wheel independent suspensions. On this project, Chuck has raised the bar. This time it's a 1937 Cord. Not just any Cord, but one that will rival almost any new car off the show room floor...

John Mumford's 1963½ Ford Galaxie

John found an original 1963 ½ factory light weight Ford Galaxie drag car. In their day, these cars ran in the 12's right from the factory. Equipped with a 427 cubic inch engine, coupled with fiberglass front fenders, deck lid and hood, it's no wonder these cars flew...

Dave and Peggy Farmer's 1932 Coupe

Dave and Peggy were looking to build a street rod. While walking the pits in Bakersfield at the NHRA Hot Rod Reunion, they came across a United Pacific Industries 5 Window body on display. Dave recalled seeing the same body used on a project we did for Vic Edelbrock...

United Pacific is celebrating their 20th year in business by having a '32 coupe built with their new steel body. The build will be powered by a Ford 302 topped with Edelbrock induction and a 700R4 transmission. Other accessories will include a Vintage Air Front Runner accessory drive system...

Larry Carter's 1932 2 Door Sedan

Larry brought us a really sano '32 2 Door. He asked us to beef it up a little and make it more road worthy. We boxed the front frame rails, installed a dropped axle and disc brakes. The rear was set up with a Currie 9 inch rear end...

MORE NEW RODS COMPLETED!

Damien Farias' 1956 Chevy

Check out the photos and more

Paul Camuzi's 1932 Ford Roadster

Check out the photos and more

Larry Carter's 1932 Ford 4 Door Sedan

Check out the photos and more

Jim Lindsey's 1932 Ford Panel

Pat Liebel's 1957 Chevy

Greg Weld's 1933 Ford Cabriolet

Roy Brizio's 1932 Ford Roadster

John Mumford's 1933 Ford 4 Door Vicky

Check out the photos and more

Scott Gillen's 1932 Ford 3 Window Coupe


AMERICA'S MOST BEAUTIFUL
ROADSTER!

You heard it right! The "Team Brizio" built 27 Track Nosed Roadster for John Mumford was crowned "AMERICAS MOST BEAUTIFUL ROADSTER" for 2013...

HAPPENINGS

On October 18th to the 20th the California Hot Rod Reunion was held at Famoso Raceway in Bakerfield, CA. Street Rodder magazine put together a tour working their way to the reunion. One of their stops was at Brizio Street Rods. The guests were treated to lunch and the run of the shop. Roy greeted them...

36 Years in Business! Mark your calendars! Roy Brizio once again celebrates by throwing his ANNUAL SHOP PARTY AND OPEN HOUSE. Check out the 28th Annual ROY BRIZIO STREET RODS 2013 Open House photos.
Check out the photos and more

MORE RODS IN PROGRESS

Paul Bonderson's 35 Ford Phaeton
If you have been checking in on our web-site, a name you may come across a couple of times is Paul Bonderson. Paul is one of our favorite customers. The variety of years, colors and power plant choices always amazes us...


Austin Beutner's 50 Chevrolet PickUp
Austin thinks variety is the spice of life. He is having us build him a 50 Chevy pickup to keep his 32 Roadster and 67 Camaro company. Austin saw the 49 Chevy pickup we did for Eric Clapton and he fell in love with it...

MORE COMPLETED RODS

Fred and Scott Hawley's 55 Chevy

Jim Moore's 32 Ford Hi-Boy

Joe Casanova's 32 Ford Hi-Boy

Chet Thomas' 32 Ford Hi-Boy

Bob McDonald's 1940 Ford Pick-Up

Jim Vickery's 1946 Ford Woodie

John Mumford's 1932 Ford Roadster

John Mumford's 1932 Ford 3-Window

John Mumford's 35 Ford Woodie



Tom Gloy's 32 Ford Roadster

Mark and Dennis Mariani Jr-32 Ford Sedan Hiboy

MORE NEWS

John Mumford's 1932 CGC Class Couple Running at Boneville.

Recently Roy Brizio Street Rods was featured on THE LEARNING CHANNEL.

HUNDREDS OF NEW PICTURES OF CARS IN PROGRESS

Check out all the latest cars in progress. Photos and more: